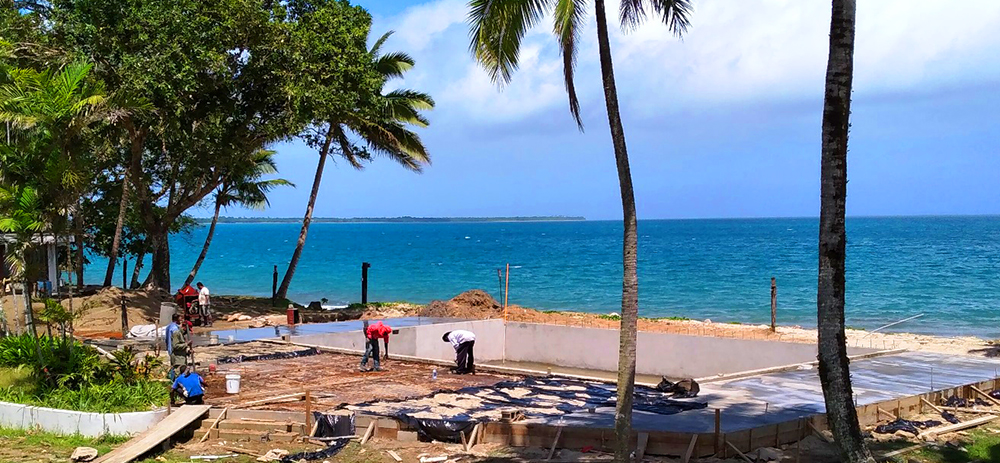 The construction of a new swimming Pool at the Pearl South Pacific Resort is well on target for completion by Christmas. It will be handed over on time and on budget which is usual for Active Construction.
The new service station built in Navua continues to progress canopy up, main premises finished next is concreting the forecourt.
Active Construction – building it better!
Another finished build in Belo Circle Pacific Harbour a three bedroom villa with carport finished to our usual high standard. Active Construction building it better!
Another new construction along the Queens highway in Vunimaga this large residential project of a three master bedroom, double storey house will take Active Construction approx 10 months to complete from start to finish. Pictured here is the pouring of the cement for the first floor.
Active Construction near completion of a new modern service station on the main Queens Road in Navua. Active GM Nilesh Prasad says that as the company expands they are continuously looking for new and more competitive ways to meet the clients needs and this job is no exception "for the first time and after training our staff we are fitting a suspended ceiling" as seen in the pictures "we are also doing our own fitting of aluminium doors and windows, moving closer to being a full one stop shop for construction needs and by bringing it in house and avoiding subcontractors we can share the saving with our clients"
Another new project for Active has started this month a two storey house in Navua
RECENTLY COMPLETED PROJECT
Yet another completed great build in Pacific Harbour this is a high spec one bedroom villa design with large undercover entertainments area that we think will prove very popular with new clients.
We take this opportunity to wish you all a happy, healthy and prosperous new year!